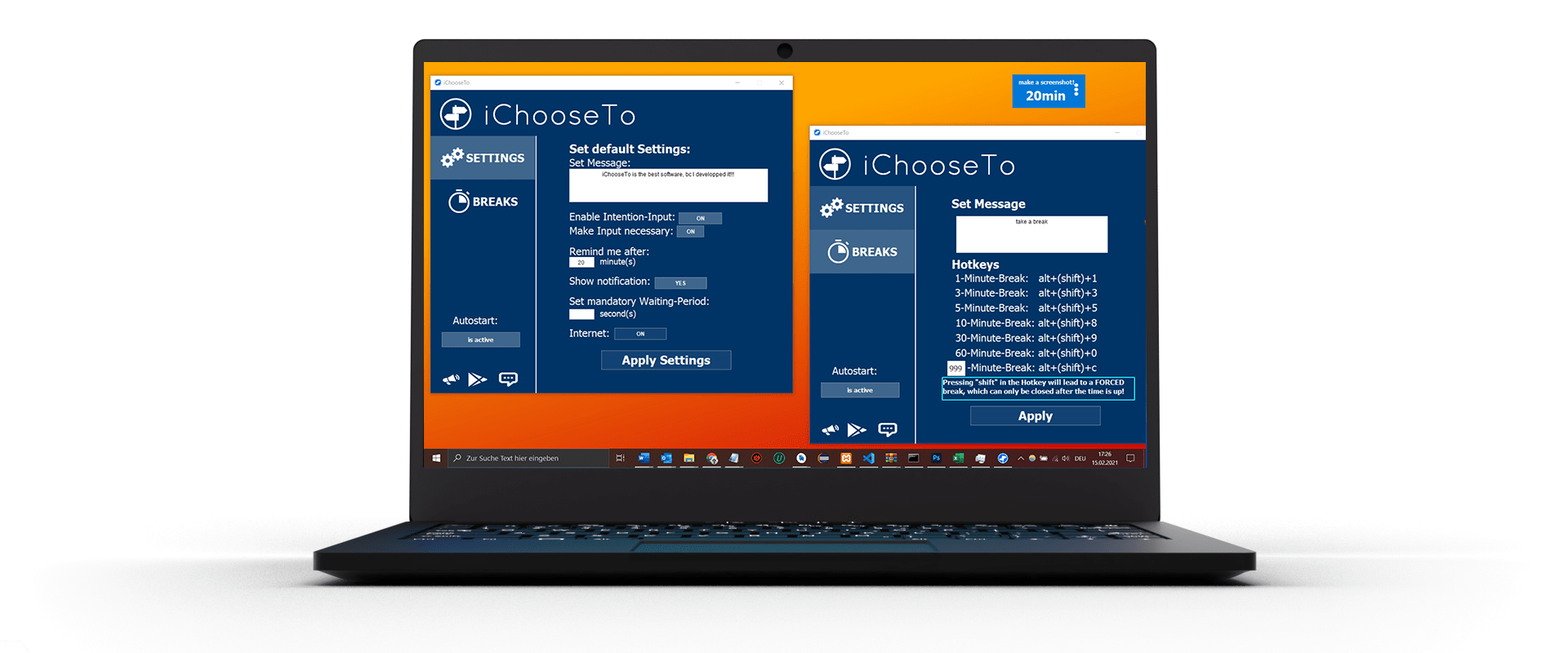 Who is it for?
iChooseTo is the most simplistic and best solution to use your computer in an intentional and mindful way. It is the fitting solution for everybody, who has an intention in mind, when starting to use the computer, but gets distracted on the way and find themselves wasting hours doing things that are not essential or important. iChooseTo will make computer usage a conscious decision, an act of will, rather than a chain of regrettable reactions without second thought. But be warned – iChooseTo will not hinder you from making wrong choices! – It is for people who are ready to be responsible for their actions and decisions since it will ELIMINATE the possibility to be reactive instead of proactive!
How does it work?
Briefly: It asks for your intention when you start using your computer and reminds you of it. Have a look at this video:
• Never use your computer without intention
• Focus on work by blocking the internet!
• Make unconscious time wasting impossible!
• Take (forced) breaks if needed! (free)
Why iChooseTo?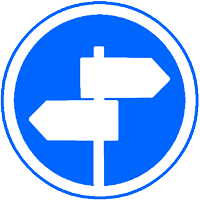 iChooseTo is not only the most simplistic solution, but also the only solution that truly works!* You want to block distracting websites and programs? The best app to do so is FocusMe. Why won't it work? Because blocking distractions IS NOT AN SOLUTION ANYMORE! Sure, you can try if you want to. But the only working way is TO TAKE RESPONSIBILITY for your actions and choices. You've to understand: Websites are neither good nor bad, only your choices make them so! Let me make the most extreme example: YouTube can be a platform for kids to learn for school from but at the same time there are videos bordering adult content on there! I repeat myself: Yes, you can use other software to block websites so you don't have to be responsible – but why not get in the habit of making proactive choices? *And probably also the least expensive one!
How to get iChooseTo?
Just click the download button! You will get the setup-file which will install the 14-days-trial-version of iChooseTo for you. In these 14 days you will be able to test it and convince yourself of its potential to change your habits to the better (for completely free!). When these 14 days are finished, you will have to make a payment of $15 for a two-year license. This will not only give you access to iChooseTo and regular updates, but also you will get direct support from me (Jonas) if there are any problems! PS: The "Breaks" functionality will be always available for completely free, even if not activated!
FAQ
iChooseTo unsafe?
Windows SmartScreen may recognize iChooseTo as "unsafe/ a risk". This is because I cannot afford to buy a certificate for $400/year. Please understand! But as long you are downloading from appsofuse.com there is absolutely no need to worry (if you need help to install, contact me)!
Who are you?
You can read about me here. In case you don't trust me enough to install iChooseTo, you may want to look at the only positive reviews of iCT for android. Also be assured that since you know my address (bottom of this site) I won't even attempt to do anything malicious 😅
Privacy/Data
I don't collect any data about you, because I am way to lazy to do so (only for the payment which is processed by stripe.com, you'll need to enter an email, which will not be used or collected by me). Also, I developed an activation-system which works completely offline! Internet connection is only needed when iChooseTo checks for updates!
How to setup iChooseTo?
Atm, to setup iChooseTo isn't as intuitive as I'd like it to be. Please follow the setup explanation carefully and/or watch this tutorial (or contact friendly support):